Safety shoes are the basic need of any industrial worker.
The industries where foot injuries are a common problem, buyers tend to consider the best footwear for the workers to run the work effectively. Choose the perfect safety wear which offers sufficient protection to the feet as they are exposed to a wide range of hazards in the work environment. For the workers who work in the construction and manufacturing industries, safety boots are a must-have at their respective workplaces. Hillson provides a range of safety shoes to the sectors where they play a crucial role while keeping safety in mind.
Hillson always wants its workers to feel safe and comfortable while working on the sites. Some safety shoes are being listed down that suit the industry with their utilities.
White Gumboots are made of Nitrile PVC and help mainly in the Food, Medical and Agricultural industries. They are mostly fat/oil resistant and easy to clean the blood stains from it. The white gumboots show dirt quickly, which helps in maintaining hygiene and cleanliness. They benefit the workers by giving them protection from chemical hazards. The range of these gumboots also ensures and reduces the risk of contamination while working. Hillson recommends Century White, 101 White, Welcome White and Don White range of white Gumboots for these sectors.
The steel toe-cap footwear comes with a double ISI mark which helps you to protect your feet from falling objects or heavy material dropping down over the toe. Mining, railway and salt mines are some industries where steel toe-cap safety is required. Hillson suggests you have the best Torpedo, Collar Boot range shoes for the mentioned industries. The upper sole has rubberized soft and flexible PVC for a comfortable walk. This boot is leakage-proof and complies with all the BIS Parameters.
As per the industry standards, gumboots made with rigid PVC are majorly used in Engineering and Fabrication, construction, MSME manufacturing, Leather Tanneries and many more industries. It provides a better grip and the outsole has anti-slip and anti-abrasion properties which helps this gumboot a perfect fit for the agricultural and water harvesting industries. The upper lining has sweat-absorbent fabric. Hillson suggests some gumboots that fit the mentioned sectors like Dragon 512, Chota Hathi, No Risk, Discovery and many more.
The Smart Leader range comprises a variety of safety shoes.
The steel toe is moulded from Hi-Carbon steel & Heat treated and is powder-coated for permanent strength & Anti Corrosive properties. The eyelets are rustproof and have ortho bounce in socks which has breathable open cell material keeping feet dry and comfortable. This range consists of Hillson Soccer, Hillson Panther, Hillson Samurai and many more shoes and is highly suitable for the manufacturing, iron & pipe, metal, and petrochemical industries.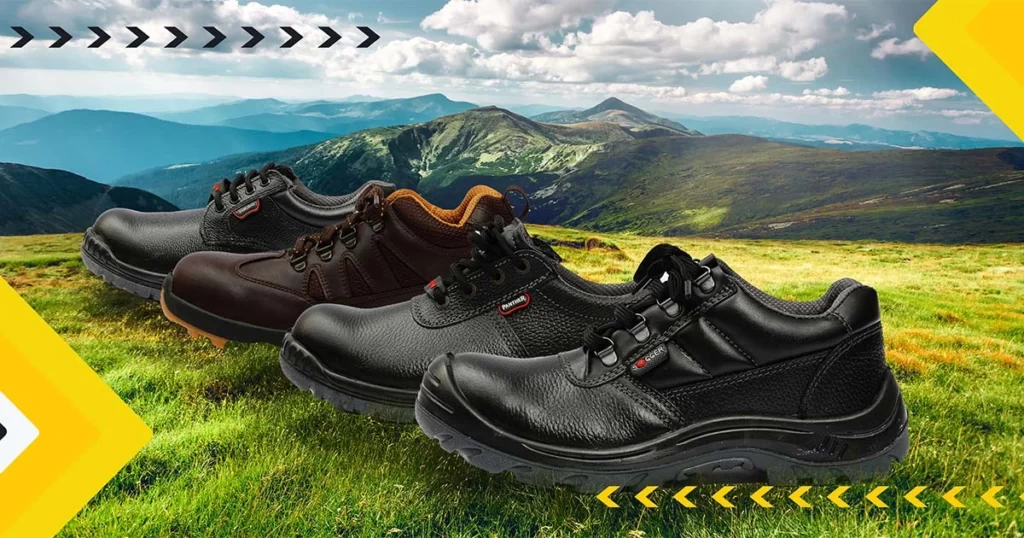 Hillson provides a colour range of stylish shoes that withstand its safety feature. It is also named SWAG RANGE . It is designed in a low-ankle derby format.
The polymer is high rebound to avoid fatigue. The sole of the fabric is breathable and the TFP sole provides anti-penetration properties.
It has a powder-coated metal toe cap containing high-density foam sandwiched between Warp Knitted Fabric. It is recommended for Engineering and Fabrication, Facility & Security Industries, and many more.
These are the few safety shoes that can be considered while buying. At Hillson, we provide the best safety shoes that perfectly suit the industry. As we manufacture the products according to the needs of the particular industry. For more details, please visit us at https://www.hillsonshoes.com/