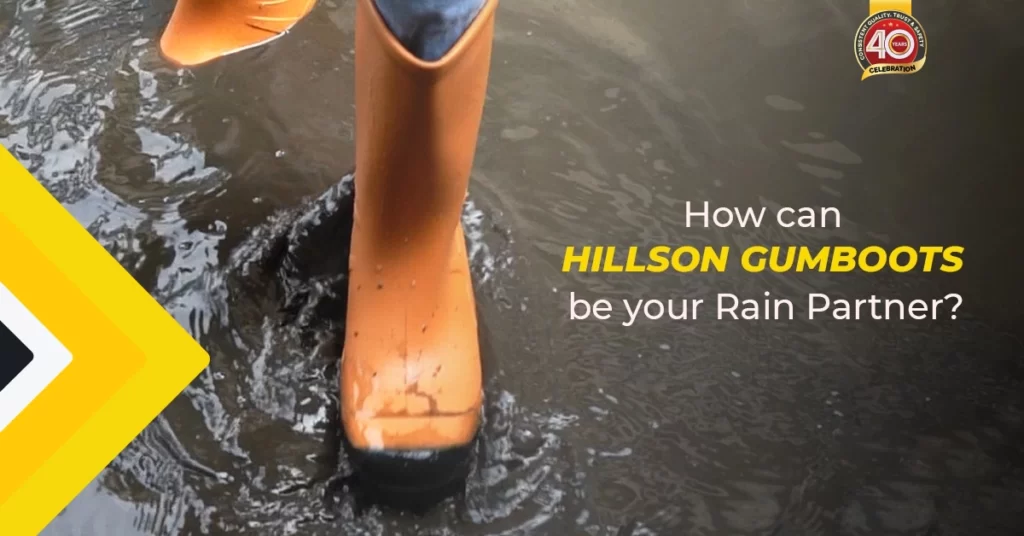 How can Hillson Gumboots be your rain partner?
Are there times when you want to step down the streets and enjoy the rain but can't do it due to the illness it brings along? Well, Hillson Gumboots is your answer. These boots are penetration resistant, anti-static, water-resistant, anti-skid, chemical resistant, etc., making the rainy season much more comfortable.
Gumboots can also be called wellingtons, rain boots, rubber boots, etc., but the purpose they serve is not going to change in any way. They are handy when it comes to taking them outside and are great for keeping your feet dry in wet weather.
"When life gives you rainy days, wear cute boots and jump in the puddles"
WHAT DO GUMBOOTS OFFER?
Protection from falling objects
These gumboots not only give protection from the rain but also safeguard your feet from hazardous incidents. Workplaces are full of unpredictable accidents that may frequently occur on places like farms, so if you wear the correct rubber boots, you won't need to worry. Hillson gumboots protect along with providing comfort to your feet. For further protection, there is a range of gumboots with steel toe caps as well.
Prevents slips, trips, and falls
In the rainy season, you will encounter wet and muddy conditions. Gumboots reduce the risk of injury since they have specialised soles that are slip-resistant even in the most adverse conditions.
Due to the Polyester lining, gumboots become very easy to clean and maintain. This coating makes the gumboots quite lustrous and attractive, ultimately adding up to its characteristics. For extra protection, apply some oil, like olive oil, to a soft cloth. Rub the cloth on the scuff marks in a circular fashion to remove them.
Protection against burning
Burns are very likely to occur while working with abrasive materials like acids, chemicals, and even cement. It can be prevented by the efficient barrier that rubber safety footwear offers between feet and potentially harmful substances.
You can find various safety shoes that claim to be waterproof, but gumboots are bona fide waterproof footwear that can work even under a shallow stream, keeping your feet completely dry. That is why these shoes are high in demand during the rainy season.
Protection from insect and reptile bites
While working in a field, these rubber shoes might shield you from insect or bug bites. The gumboots may protect your feet from snake bites as well, as it is made with premium quality raw materials.
Gumboots are not just limited to the rainy season, they have much wider access than you might expect. Apart from being used in the rainy season, these gumboots can be utilized through muddy entrances, full swales, streams, shallow ponds, and many places where regular shoes won't be enough for you!
A firm grip is crucial, especially when working on slick surfaces. Hillson Gumboots are preferable because of their sturdy, high-quality rubber soles that are anti-skid and provide grip or friction against the greasy surface. Therefore, any gumboot manufacturer competent enough would include high-quality grips in their designed footwear.
If you want to keep your feet safe in harsh working conditions, then Hillson Gumboots can be your best friend. Now is the time to enjoy the rainy season carefree and jump in the puddle with Hillson rain boots.